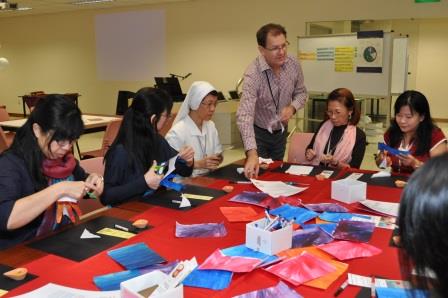 Teachers get fresh ideas at Australian-led course
Catholic educators who took part in a training programme run by a team from Brisbane, Australia, said they gained much from it.
The course "introduced to me the many strategies we can adapt, e.g. using colours, mind scaffolding, music, art and dance, and using all the wonderful things of God's creation to aid us in our teaching sessions," said Mr Bernard Lim, a Catholic preschool board member.
"We were exposed to new tools through technology which enhances traditional materials," said Ms Irene Leong, principal of Nativity Church Kindergarten.
"Every single activity that we experienced and enjoyed may be used with our students and, most importantly, was meaningful for ourselves."
Mr Lim and Ms Leong were among 52 teachers from Catholic preschools, primary and secondary schools who attended the Religious Education Training Programme held at Catholic Junior College from Nov 26-29.
The Archdiocesan Commission for Catholic Schools (ACCS) in Singapore conducted the programme in conjunction with the Brisbane Catholic Education office, which sent a six-person team.
"More than anything, an RE [religious education] teacher should know that who they are as an authentic human being is just as important as what they teach," Mr Mark Elliott, Principal Education Officer of Religious Education with the Brisbane office told CatholicNews.
"RE teachers need to have a deep understanding of scripture and be prepared to challenge students to recognise the person of Jesus not just in scriptural texts but in everyday life."
According to Ms Merilyn Dasson, director of early childhood education at ACCS, the aim of the programme is for "religious educators to be able to infuse a genuine spirituality into the school and especially in RE classes".
Some Catholic preschool teachers are also expected to go for a week's attachment at a Catholic kindergarten in Brisbane next year.
This article was published in Catholic News (December 16, 2012, Vol 62, No 25).